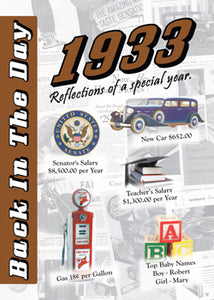 3 Oak Publishing
1933 Back In The Day Greeting Card / Booklet (envelope included)
Regular price
$6.99
$0.00
Unit price
per
Take a stroll down memory lane as you flip through twenty-four (24) pages of advertisements, news headlines, cost of goods, and other interesting information from your special year. 

You will see advertisements showing items from your special year including cars, appliances, food products, candy, and other household items. 

Back In The Day booklets make a great gift or card for Anniversaries, Birthdays, reunions, graduations or any other special event! There is even a short trivia game to play with others or just challenge yourself. 

With 24 pages of information, Back In The Day Greeting booklets offer a much better value than the traditional folded greeting card. It is also more likely to be kept by the recipient as a keepsake for decades to come. 
Each Back In The Day Greeting Card / Booklet is 5" wide x 7" tall and comes with an envelope allowing it to be mailed or given as a greeting card/gift. 
Each Back In The Day Greeting Card / Booklet features the following information from your special year:
Over 40 original advertisements from the year
A Recipe
Cost of Goods
Average Income's
Top Movies
Popular Music
Academy Award Winners
Federal Debt & Military Spending
Sports News & Champions
Introductions from the year
Top Baby Names from the year
Famous Births
News Headlines
President & Vice President Information
Interesting Facts
Trivia Game
Awesome & Unique
I've given to many family and friends — it always gets passed around and starts conversations! To make it special I made "The Original Recipe" for the year and give it with the card :0)
Never got card
Never received card! Totally ruined the birthday fun I had planned!
The booklets are great that's why I ordered it.
Thank you for bringing this to our attention. Your order was shipped the day after your order was placed. After tracking the order we found out that the Post Office had lost your order. I hope that we resolved this issue to your satisfaction. I apologize that it never made it to you.
1933 Back In The Day Greeting Card / Booklet (envelope included)
Great purchase
These booklets were great. I would highly recommend them.
---